David Schütz
Office of the State Curator
2 Governor Aiken Avenue
Montpelier, VT 05633-5801
Phone: 802-828-0749
Fax: 802-828-3533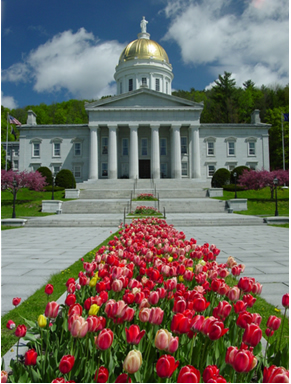 The Vermont State Curator's Office oversees the restoration, care and conservation of the historic Vermont State House and the collections of fine art, decorative art and historic furniture housed there. In addition, the State Curator's Office manages three gallery spaces in the Capitol Complex for rotating exhibitions of contemporary art: the Governor's Office in the Pavilion Office Building; the lobby of the Supreme Court Building and the State House cafeteria. Care and management of the broader State Art Collection is also a responsibility of this office.
The Governor's Gallery is located on the 5th floor of the Pavilion Building at 109 State Street.  The Vermont Supreme Court Gallery is located at 111 State Street.  Both galleries are open Monday through Friday, 8:00-4:30.  Admission is free. Valid photo ID is required to enter the Governor's Gallery.
The State Curator works closely with the Friends of the Vermont State House, a private not-for-profit organization, to supervise the more than 100 volunteers who work at the State House as general tour guides, school tour guides or in the seasonal Under the Dome gift shop.
Maintenance and renovation projects undertaken at historic buildings owned by the state of Vermont and managed by the Department of Buildings and General Services are reviewed by the State Curator's Office. Curatorial staff conduct research and provide support to insure that projects are carried out in accordance with the Secretary of the Interiors Standards for the Rehabilitation of Historic Structures.