Assigned vehicles are provided to a department for their full-time use within the parameters of the Fleet Management Services policies and procedures.  Assignment and utilization of vehicles are reviewed  biennially during the lease renewal review to ensure the fleet is right-sized.  
Assigned Vehicle Request Instructions
Assigned Vehicle Request Form (New or Replacement)
Long-Term Vehicle Assignment
Vehicles will be assigned by FMS to departments for use by their employees. Vehicles will not be assigned to individuals. Assignments are reviewed biennially through the lease review.
Rates
Rates are calculated individually based on vehicle and department-requested equipment costs, projected maintenance and repair costs, insurance and program administrative costs.  An annual mileage allotment will be established and, at the biennial lease review, any additional miles which exceed the allotment will be billed to the department.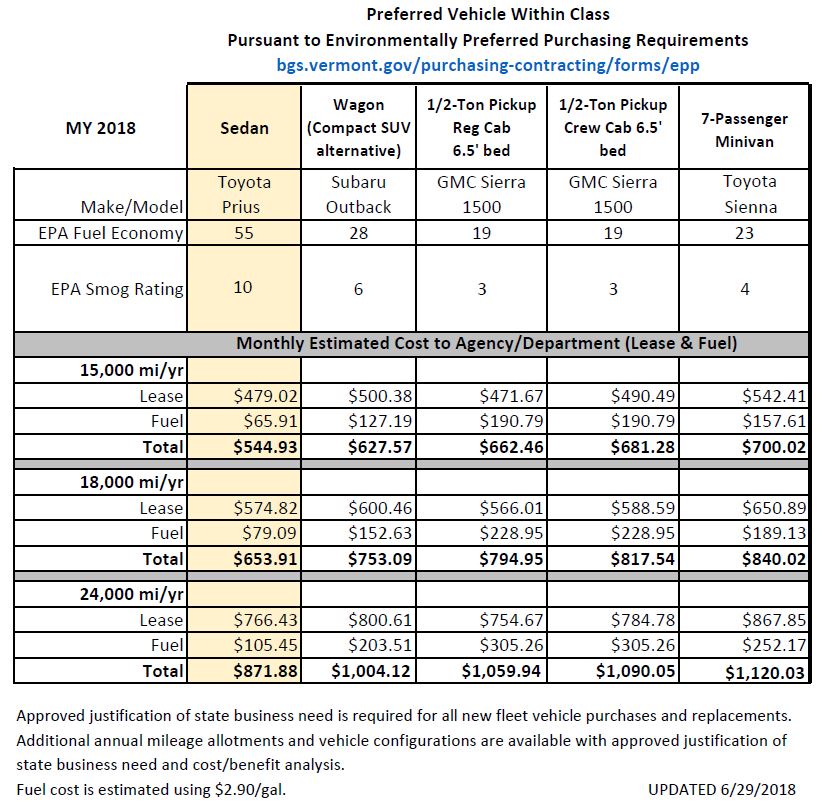 Vehicle Assignment Eligibility
For specific rates and plans to match your department's needs, contact the Fleet Procurement Agent at 828-3679.  
Trip Log
A trip log is recommended for all travel in state vehicles.  For your convenience, you may print a copy of the trip log:  Vehicle Usage Log 
State-Owned License Plates
All FMS vehicles are marked with State license plates. If a department requires a vehicle without the "State" designation on the license plate, the department must report that requirement on a Exemption from 'State" License Plate Designation Form. The requesting agency head must sign this form before it can be processed. A department will not be issued a license plate absent the State designation without proper approval.
Taking A State Vehicle Home
FMS vehicles may be home based with prior approval. If a job requires an employee to regularly take a FMS vehicle to his/her home for any reason, the employee must request permission from FMS. This approval to home base a vehicle is requested by (1) completing the Employee Request to Take State Vehicle Home Form, and (2) having this form signed by the employee's agency head.
Keeping Vehicles Clean
It is the responsibility of the leasing department to initiate vehicle cleaning. It is recommended that each vehicle be cleaned once a month. This can be accomplished by (1) taking the vehicle to an authorized vendor or (2) by contacting the FMS office (828-3821) to schedule the vehicle to be cleaned on the weekend at the Montpelier Info Center. A list of authorized vendors can be obtained from your assigned Service Technician. Cleaning will be done at FMS expense. 
Vehicle Maintenance
All vehicle maintenance will be regularly scheduled by FMS in coordination with the assigned department. Maintenance will be triggered by the odometer reading therefore it is very important to enter the correct odometer reading when fueling FMS vehicles.  
Oil Change
Fleet vehicles shall use full synthetic oil and be changed at 10,000 miles increments or every six months, whichever comes first. 
Vehicle Repair
Drivers are encouraged to report all potential vehicle problems to FMS immediately. See the FMS website for a list of the Service Technicians by department.
Special Equipment Requests
Permanently installed special equipment -- such as child safety seats, portable car phones, two-way radios, emergency light bars, first aid kits, fire extinguishers, etc. -- or state decals may be installed at the leasing department's expense.   
Cancelling A Long-Term Vehicle Assignment Contract
When a department finds they no longer have a need for the assigned vehicle or it is under-utilized, please contact the FMS Manager who will seek alternative placement for the vehicle.