---
| VT Buys Home  | Agencies & Departments | Supplier | 
---
Modernized and value focused procurement for Agencies & Departments.
VT Buys, once implemented, will become the primary platform for the State to perform sourcing & solicitation, contracting, supplier management and procurement activities. It will also provide an online shopping platform for State users to purchase goods and services provided by our supplier partners.
What's in it for me?
For State Agencies & Departments, you will benefit from:
Shortened/compressed cycle times by streamlining and standardizing the current manual, paper-based procurement, contracting, and purchasing processes and practices, while maintaining flexibility to meet unique needs of each agency/department.
Eliminating redundant and obsolete systems.
Reduced re-entry of information to minimize errors, re-work, and duplication of effort.
More effective means to collaborate on procurements within and across agencies & departments.
Consistent procurement practices, methods, and outcomes through use of standards, templates, and a common set of automated tools.
Reduced number of duplicative sources for procurement rules, policies, information, and documents.
Increased security and control of State procurement data and documents by reducing physical and electronic storage locations.
Improved accountability and auditability of all procurement actions.
Improved control over spending under management, including the ability to track and report contract price compliance and invoicing errors.
Access to selection of the best and most appropriate pricing through comparisons across State contracts.
Achieving State Supplier Diversity goals and objectives through broader participation of these types of Suppliers in all forms of purchasing.
When will it be available to me?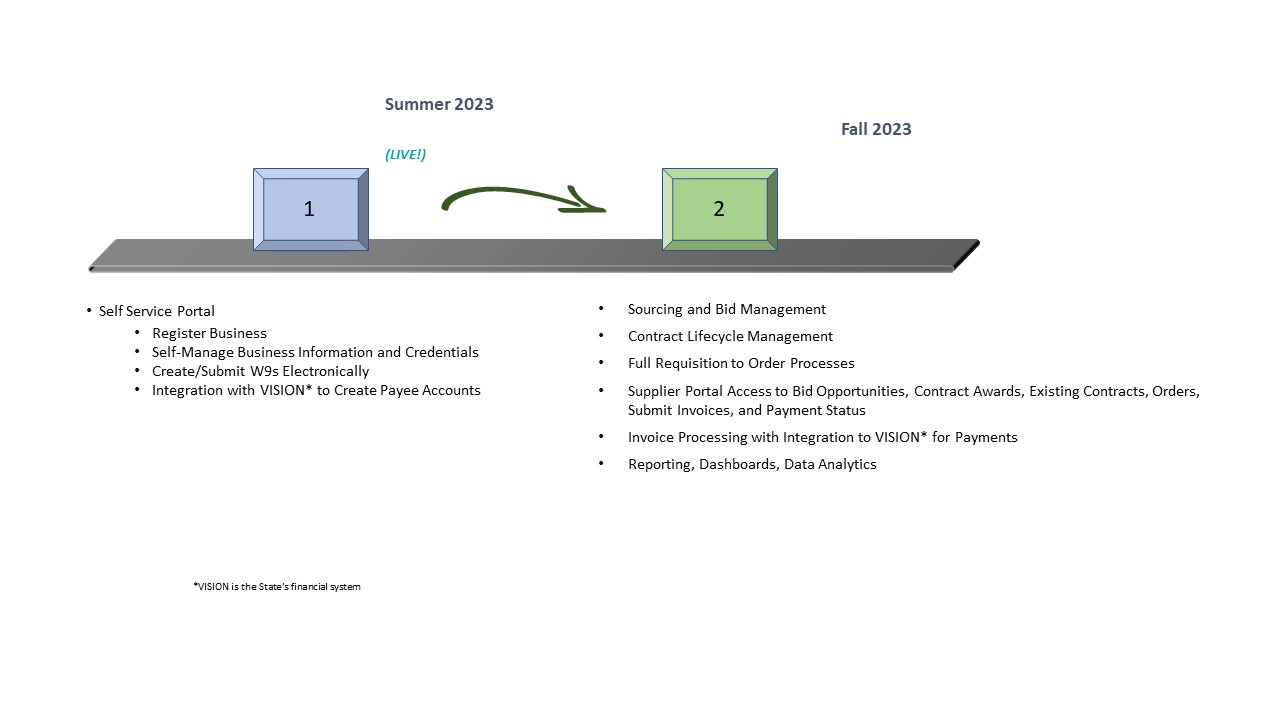 Want to receive the latest update about the initiative? 
Subscribe to our newsletter! 
Questions and Feedback
Office of Purchasing and Contracting (OPC)
133 State Street, 5th Floor,
Montpelier, Vermont 05633-8000
Phone:  802.828.2211
Fax:        802.828.2222
Email: SOV.VTBuys@vermont.gov
---